Establishing a business can be truly intimidating. Without any proper guidance, technical knowledge, or due to lack of enough capital, things are bound to waste a lot of time. One of the most important reasons you may need a managed IT service is that they help you throughout the entire process and Managed IT services pricing is very affordable. Right from the thought that you probably should outsource the App development to a corporation to actually making it happen, managed IT services allow you to conduct the entire procedure without wasting a jiffy.
Other than this, they also help your franchise out by laying out well-structured business plans that assist you in expansion and also save money. Moreover, IT management services are a good option when planning to outsource App development because the prospective developer acknowledges the market requirements, the ambition that your organization plans to fulfill, your issues as well as the solutions that you plan to bring out with your app.
Beginning with an organization and carrying out these processes alone may take up so much of your energy that you might not get the time to focus on other important matters of your budding business. Managed IT services have been made especially for those who intend to save their time and resources.
Statistics suggest that these services and solutions increase the performance by a whopping 72%! Also, they can save almost 29% of the IT money you might need to spend in the future. If you happen to be from a non-tech academic background, then there are chances that you are not aware of the importance of Managed IT services. Researchers claim that over 30% of the new small businesses are targeted by hackers and if they are not protected by managed IT services.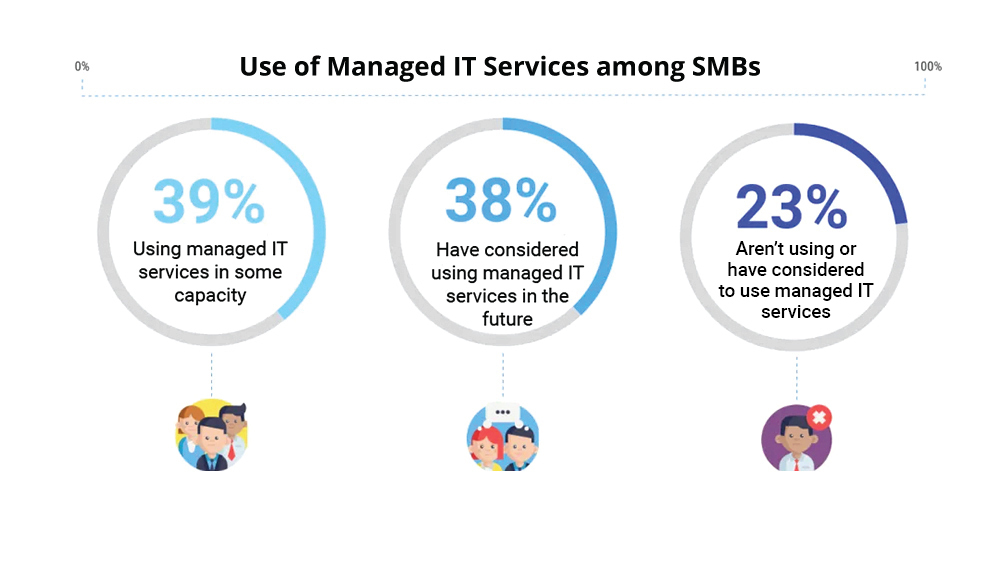 What Exactly Are Managed IT Services?
Establishing managed IT services pricing is challenging. As there are so many services that belong under the banner of "IT." Your company's IT requirements may be vastly different from those of another.
To begin, now let describe managed IT services. Manage IT, at its heart, means that your IT requirements, whatever they may be, are managed by a third party. For a cost, a team of professionals offers to manage your IT demands, or at least on a portion of them.
Managed IT services are promoted as a cost-effective alternative to hiring a team of IT specialists since outsourcing IT operations is often more efficient for most firms. IT is a broad and complicated topic that needs extensive expertise in various technologies and procedures. Employing a workforce with the necessary competence to manage all of your IT development needs is expensive, which is why only huge organizations do it. Outsourcing IT management services is typically more important and beneficial for small and medium-sized organizations. Especially when managed IT services pricing offers dynamic options to choose from to complement budgetary constraints.
How Much Does Managed IT Services Cost?
Managed IT services describe a wide range of services, majorly explaining how external experts shoulder responsibility for the majority of your IT operations in most cases. But in some cases, managed IT operations are assumed to fulfill specific obligations. Yes, it could be fully managed IT Services or Partial managed IT services. This variation in IT services brings price variations on managed IT services as well. Generally, the price range for managed IT service packages runs from $100 per month to $250 per user, per month.
The cheapest managed IT services pricing usually ranges from around $65-150 per month. In this case, the managed IT team renders protection, help, and guide and guard services. Acting as the personnel who watch your development of product closely and if something goes wrong, alerts you immediately especially if you will need to bear extra costs.
At eTraverse for fixed hours, with a duration of 8 Hrs/Day – 5Days/Week the billing is made weekly or daily or monthly and it is based on the Project Time and Material.
If your package involves using resources at your convenience with a duration of 4/8 Hrs/Day – 5 Days/Week (160 Hrs/ Month) the billing is monthly and the package is for as long as you want.
For an extended team with Expert IT Resources, the duration is 8 Hrs a day for 5 Days/Week (160 Hrs/ Month), the billing is done monthly and it is based on your type of Project.
Financial Benefits of Managed IT Services
In many aspects, Managed IT Service Provider offers organizations the support they require to guarantee that the appropriate people receive the appropriate resources in the most efficient manner. This, in turn, delivers financial benefits by ensuring that money is spent as efficiently as possible. There are several benefits of a Managed IT service. Some of them have been mentioned below.
Cut out the cost of infrastructure and resources
A managed IT service provider successfully helps deduct the amount of infrastructure. This is because most of the data centers would be provided by them.
Managed IT services pricing helps in cutting out costs for unnecessary hardware resources and this way, you could put that space and money for something more vital.
Save capital that may otherwise be wasted
A managed IT service provider would also teach you about the ways in which you can minimize the costs of licensing, training, as well as consulting. Instead of making payment plans for all of them separately, consulting an IT service agent would help find out how it is done. Managed IT services pricing would help cover all of them in only a single or monthly investment.
Technical expertise
You and I both know that time is money. IT issues interrupt productivity and cause projects to halt. And time spent attempting to fix IT problems is money wasted. When you choose a managed IT solution, your employees will not have to rely on someone to solve their technical issues and get them back up and running. Rather, you'll have instant access to a specialist who can help your situation and get your organization back on the right path.
Know the monthly expenses without spending time calculating any
Managed IT services pricing provides you with the predicted costs and helps you design your budget. This way, you will know the accurate amount of money that you would need to spend and also the amount that you would be generating.
Scale your business with minimal effort
Once you have good relations with the IT service provider, you would be able to scale your business easily. This means that as your business boosts its performance, the service provider would be eager to help you grow it even more. Managed IT services pricing gives you the luxury to recruit as many employees as you think you would need. This can literally save you years of time and energy.
Conclusion
In the nutshell, the best thing you could take from this is that outsourcing has various benefits. Considering a managed IT service provider would help you in numerous ways. eTraverse has the perfectly designed "Managed IT Support" model to offer you satisfaction, peace of mind and help you save your time and funds. 
We are a level 1 BBB-EE contributor and when you outsource managed IT services to us, you're entrusting your idea to a group of experts who know what you need and are capable of delivering to your satisfaction.